Welcome to The Queen's Royal Gala!!!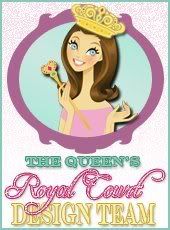 The Queen is turning the BIG

5-0

and
wanted to share some very exciting news with everyone, are you sitting down .....
The Scrapbooking Queen has opened up her very own Royal Castle Shoppe and is releasing her very first set of stamps, which we are sharing with you here today!!
So lets get to it.... Today The Queen's Royal Court is showcasing one of the new sets called ~~
ROYAL SAYINGS ~~
We have a wonderful line up of talented ladies who have all come to the castle
to celebrate with The Queen. So if you've come from Janis you've taken the right Royal Carriage. Now if you happened upon my blog today you will want to start at the beginning which is The Scrapbooking Queen's Blog.
Here is the project I made for the Queen for her birthday ~
The Queen is so excited about her new Royal Stamp Line that she is giving away a Royal Stamp Package each day, which includes the stamp showcased for the day, Royal Twine and an Action Wobbles pack.
Here are some of the Royal rules:
Must be a Royal Follower of The Scrapbooking Queen's Blog (and I'd love for you to follow me too)
Must leave a comment on each of The Queen's Royal Court DT Posts
Come back each day of the RELEASE weekend and comment on all POSTS
For a chance to win the GRAND Prize Royal Package every stamp purchase of the new release you make is an entry for the chance to win a new
Purchase(s) must be made by Tuesday March 10th Midnight PST and drawing to take place on Wednesday March 11th 12:00 noon PST.